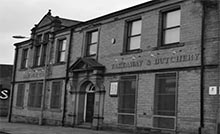 East West Catering, established in 1988, was originally set up as a women's co-operative, after a group of housewives seeking independence ventured into a business together, hoping for an improved lifestyle for themselves and their families. It all commenced in an industrial factory known as Ryburn mills, in which we supplied fresh hot food to the factory workers. This was ideal given the cold British climate and encouraged the women to let their cultural roots unfold into mouth watering meals. Before long , we were approached by local hospitals such as Calderdale Royal (formally Halifax General and Halifax Infirmary hospital ) with a predicament. Their catering manager mentioned that ethnic minority patients refused the westernised food served in the hospitals and would prefer dishes they would commonly eat at home. Privileged to be aiding the community, we started supplying traditional Punjabi cuisine to the hospitals.
The women's co-operative then dissolved and Ghulam Sakina bought out the shares of the other women. Mrs Sakina is the original founder of this successful business. We then started expanding; at one point in time we were supplying most of the hospitals in the north of England. Despite competition, we managed to secure hospital catering through blind tenders each year successfully. The hospital tendering process then became privatised (they were bought out by private companies who have their own nominated suppliers). We also sourced other companies such as chilled distributors and sandwich deli bars as well as corporate and wedding buffets. Gradually we migrated to a purpose built premises equipped with a professional kitchen, butchery , take away (under renovation ) and several freezer rooms to name but a few facilities . We began with little, however, with perseverance and dedication we grew and positively responded to communal needs without compromising on taste or quality.
In order to dispatch the finest foods, at East West Catering we ensure that all ingredients are sourced from local butchers and markets; we do not prepare meals months in advance, rather, priority and focus is upon delivering the freshest produce in town. This system guarantees a unique culinary experience for the relevant market whilst maintaining the flavours of the Punjab region. We accept nothing less than perfect with regards to the quality of our products and regularly monitor the cuisine leaving the Kitchen. Our company boasts an in house training programme which makes certain that all staff are qualified for their roles. Our Kitchen operates in compliance with a HACCP system. All workers strive to achieve high standards of hygiene as we understand this is a key component in order to create incomparable ,fresh products. No food is fully assembled using machinery , it is all at the hands of our experienced chefs. Nowadays, we are in need of nutritious, filling food. East West is proud to announce that we use no artificial colours or flavourings in any of our produce. In addition, we cater for an array of markets : Halal(HMC), vegetarian , specific allergies. As well as offering a spice scale. Healthy delicious meals couldn't be made easier !